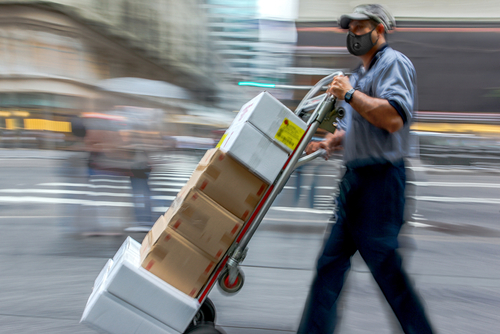 Time-sensitive delivery services continue to be essential to the residential consumer and also to the businessman ensuring the supply chain is not interrupted. It is difficult to imagine a situation where a manufacturing industry could not survive without the input of couriers who can get consignments out at a specific time.
What Are The Benefits Of Time-Sensitive Couriers?
Many businesses do not need deliveries made at specific times. As long as that delivery is made within a "narrow time-window", that is often acceptable.
However, there are industries which need deliveries to occur at a set time. For instance, suppliers of fresh food would need to ensure that products arrive within dates that allow the product to be sold at optimum quality. And there are many other industries which fall into this category – especially the medical services. For instance, if equipment does not reach a hospital in time to be of use for a specific patient, it becomes more than profit and loss – it could become a case of life and death.
Couriers And The COVID Test
Here at Same Day Dispatch Services Ltd we are proud to be in a position where we can help with the current virus crisis. We offer assistance with dispatching the COVID test. Individuals may be concerned that they have the symptoms, or that they have been in contact with someone with the virus. In the same way, employers may need to test whole departments on a regular basis to keep processes flowing and everyone safe. The test itself is not effective unless those concerned know the results as soon as possible.
Industries We Offer Services To
Chemical and cleaning manufacturers
Clinical sampling (pathology, specimens and blood)
Life sciences sector
Manufacturing industries such as Aviation, Automotive etc.
Construction industries
Media, Production and PR
Financial services
IT sector
Marine industry
But in reality, this list is just a snapshot of the UK industries in which our couriers offer time-sensitive services to. The fact is, any industry in the UK may need time-sensitive services either on a regular or ad-hoc basis. This is because as much as we can put efficient systems into place in terms of logistics, everyday business flow and supply chains, life has a habit of getting in the way. There will always be a need to get that document out to be physically signed at the last minute, that piece of equipment is urgently needed to allow a manufacturing process to take place or medical equipment is needed to ensure patients are kept safe and well.
How Can Our Couriers Offer Same Day Delivery?
So how do we do it? The only way we can effect same day delivery is to have a powerful business infrastructure and strong and reliable partnerships. At Same Day Dispatch we have access to high-quality couriers across the nation utilising 230 depots and a fleet of over 2,500 delivery vehicles. Once we know your project is waiting, we will get a driver out to you within the hour. Our trusted partners allow us to use "night-flight" transport for those last-minute consignments. We also have trustworthy partners in the shipping sector and all consignments are handled with the utmost respect they deserve. If it is an awkward or fragile package – don't worry, we will get it there safely.
Our Back-up System
This is all very well, but isn't there likely to be times when "life gets in the way" of getting your shipment there at the time we said it would? Yes, that's right. That's why we build a back-up system into our delivery. In the rare event of a breakdown or driver issues, we will dispatch a back-up vehicle at no extra cost to you.
We have been offering efficient delivery services to the residential consumer and the UK businessman for the past seventeen years. If you are looking for a business partner you can trust, then you are in the right place. To find out more about our services call 0800 999 1010 or, for an estimate on your project click here
Tags: Parcel Couriers, Parcel Delivery Services, same day couriers, Same Day Couriers Service, same day delivery
---