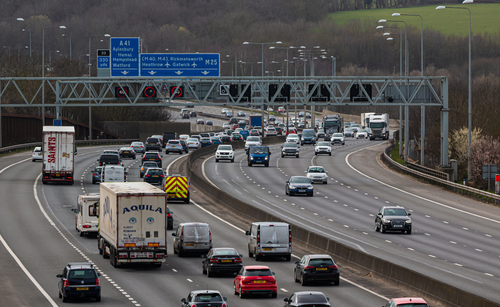 In a world where technology makes almost everything accessible at the touch of a button – and everything appears to happen ten times faster than it did just a decade ago – it was great news (especially for couriers) that our major roads were going to benefit from new advances in the science world. Smart motorways have swept the UK. Unfortunately, as the scientists inspect the results of over 15 years of statistics, it is plain that smart motorways could not only be flawed, but they could also be dangerous.
Couriers Welcome Congestion-free Roads
The ease with which couriers are able to traverse the UK is very important. Indeed, motorways are clearly the fastest and most efficient way for couriers to transport consignments across the country. Smart motorways were welcomed by the delivery industry because of the possible beneficial effect on reducing traffic and enhancing set delivery times. But now there appears to be a much darker issue.
The Beginnings of Smart Motorways
First used on the M42 in the West Midlands in 2006, the concept of smart motorways has gone from strength to strength in the UK. They were first employed as a way to lessen motorway congestion, reduce vehicle journey times and ultimately vehicle emissions. This has all been brought about by more effective speed control systems, a move towards four lanes and the removal of the hard shoulder.
The Removal of the Hard Shoulder
It is the removal of the hard shoulder that is now causing so much consternation. The hard shoulder has been seen as a necessary part of motorway driving since the 1960's. Traditionally, if there is a need for a vehicle to leave the flow of motorway traffic due to malfunction or an accident, vehicles may pull onto the hard shoulder for temporary periods. With the new smart motorways, this failsafe is unavailable.
In effect this means that any vehicle needing breakdown assistance cannot easily remove itself from the flow of traffic. A vehicle which is unable to continue its journey is unable to leave its lane and is in immediate danger of being hit by other vehicles. According to figures released by National Highways, 39 people died on smart motorways either because there was no hard shoulder or the hard shoulder was being used as a running lane.
A Review of Smart Motorways
The smart motorways project has attracted both supporters and criticism. In its favour statistics do suggest that vehicle emissions are slightly reduced, the length of a journey is shorter, fuel usage is lessened and there has been less accidents due to compliance with speed restrictions. However, the criticisms have been more profound in terms of the issues involving the removal of the hard shoulder.
In January 2020, all smart motorways were put under review to address safety concerns. In 2021 the outcome of this review suggested there was a need for an increase in radar systems that could locate vehicles that had stopped or broken down in any lane.
Couriers and Refuges
Now as we approach 2022 there has been a call in the House of
Commons to urgently increase the number of safe refuges on smart motorways. Refuges are areas at the side of live lanes where vehicles can safely pull into in times of trouble.
Rebecca Needham, a representative from RoSPA (the Royal Society for the Prevention of Accidents) has stated that a reduction in the space between, and increase in the presence of, refuges, would aid the situation. She said, "We support the calls of the Transport Select Committee to retrofit emergency refuge areas to existing all-lane running motorways to make them a maximum of 1,500 metres apart, decreasing to every 1,000 metres where physically possible."
As a leading company offering quality couriers, we want to see this issue dealt with as soon as possible. The safety of our workers is paramount while providing a fast, reliable delivery service. To see more of our services click here.
Tags: Courier Services, Couriers, couriers near me, Parcel Delivery, Parcel Delivery Services, Supply Chain
---