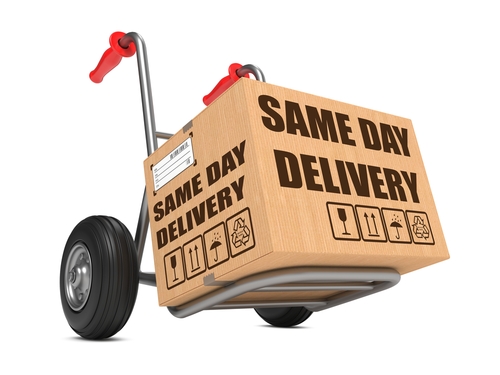 As we all tentatively get used to a world with Covid-19 but with a little less restrictions, industry is slowly getting back on its feet again. Same day delivery and courier services have seen a massive new demand since the beginning of the epidemic as more people have been reliant on online buying. Indeed, here at Same Day Despatch Services Ltd we ensure our services are the best you will find and as safe as they can be. So, what makes same day delivery essential for your business?
Streamlining your supply chain
Your business supply chain is fundamental, not only to the service you offer, but it will also determine whether your clients remain with you in the future. When the delivery of an important consignment is disrupted, your whole business could be put at risk. So it is important the delivery service you partner with understands your business and customers, streamlines your services and never lets you down. Not all businesses necessarily need same day delivery but we have found that when this service is added – organisations tend to notice their whole supply chain can go through a renovation (see below).
Stand out from the crowd
All businesses need a Unique Selling Point (USP) and what better than a delivery service that "goes that extra mile". Your products will undoubtedly have their own USP which gets your target market excited – but by adding same day delivery to the mix, you are really providing a service that few other competitors will be in a place to offer. It takes you from being one of the competitiors to the competition to beat.
Building trust
All businesses need customers who are going to buy on a regular basis. For that to happen, the customer must trust the provider. By offering same day delivery you will be offering a service that speaks of excellence. Customers will naturally be impressed when the product is received at the time stated. Also, by engaging same day delivery, it is likely this will have a positive effect on all staff members. Work productivity is likely to be enhanced to meet the demand and the expected quality of service.
Increasing profit margins and service
By partnering with a professional courier or same day delivery service such as ourselves you could well look forward to greater profit margins. Hence, same day delivery is a high grade service and people who want it are willing to pay that extra cost. Therefore, current margins could well see a new boost.
Professionals working in same day delivery know their industry back to front and are well aware how to make sure the service given is cost effective to the client business and how to ensure the service is fulfilled. For instance, here at Same-Day we know life gets in the way sometimes so we always try to back-up each consignment we send out. By organising a back-up, we can minimise the possibility of a delivery getting held up or not happening.
Dealing with emergencies
There will always be a time in business when logistical systems go awry. When there is a desperate need to get goods, documents or consignments to their destination at double quick speed. Our same day delivery service does exactly that. By creating an account with us now, you can make your business safer for the future.
The very best service and the future of delivery
The last thing we do is cut corners to get your valuables delivered on time. In fact, we believe our delivery service is head and shoulders above our competitors whether it is faster or not. Our couriers are trained and friendly, they will pay attention to goods which need special handling, and always adhere to the needs of Covid-19 restrictions. As delivery services become more refined, you could say that we are ahead of the competition as we look to the future.
Where do I go from here?
If you have a delivery in mind, you can get an estimate by clicking here. You can call to speak to one of our support workers on 0800 999 1010 or why not open an account by clicking here? We look forward to working with you!
Tags: Same Day Couriers Service, same day delivery, Sameday Couriers
---