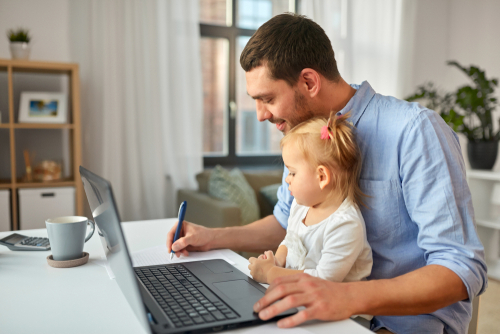 There seems to be a bit of a debate about whether we have all been rewired after the Covid-19 pandemic. This argument is based on the idea that both businesses and clients have had to find a new way to buy and sell – online and via virtual interactions – and these new ways appear to have remained attractive after the height of lockdown in the UK. It is certainly true that because of the restrictions imposed during lockdown businesses have had to learn new ways of working online and customers buy more through the web. Consequently, there has been an increased demand for trustworthy couriers – but there is also a fear that the new bias towards home delivery working from home and virtual meetings will lead to a surge in failed deliveries. How can this be?
A greater demand for couriers as people work from home
As offices have closed due to lockdown restrictions, more people have been working from home and using video apps for meetings online. This has come with pros and cons, but for many businesses, it has meant a cut in costs while effective working still continues. Again, it is likely some businesses will continue with virtual working after the pandemic subsides.
So if employees are more likely to be working from home in the future, there is a greater amount of online buying and the demand for couriers is filled, why do some commentators suggest that home deliveries could be problematic?
Couriers and home deliveries
This assumption is based on the idea that if people are working from home there are more likely to be failed deliveries. The latter is more likely to occur in residential settings than in business settings where it is rare. It also begs the question: will deliveries be cheaper? Businesses tend to be located in enclosed areas such as on High Streets or Industrial estates – couriers delivering to residential estates or rural areas may face increased fuel costs and delivery times.
Who will take the delivery?
There is also the fact that people in a workplace will definitely be available to take deliveries whereas the home situation is more hit and miss. Consequently, there is a possibility of couriers introducing fines for failed deliveries.
All of these possibilities suggest that working from home and depending on virtual apps is not necessarily going to mean reduced prices and greater convenience. Or is it? Won't businesses adapt to this new way of working?
Adapting to a new way of working
Surely if customers are demanding a new way of buying, then businesses must adapt to those new ways of working. Just as with any kind of supply chain, the most cost effective option is the most attractive. So, if it means employees will work from home more, then the way in which they work from home must be refined – and not just be hit and miss as perhaps it was during lockdown. This may mean a need for employers and managers to set out clear working patterns when employees are not in the office. In this way it will be expected they will be in the accepted working environment (their home) to receive home deliveries within specific times. Maybe timetables will need to be drawn up and contracts modified so that employees are aware of when deliveries are coming so they will always be on hand to receive it.
What you can expect from Same-Day couriers
Here at Same-Day Dispatch Services Ltd, we keep an eye on changes in consumer needs and culture in order to offer the best courier services. We have access to the best couriers across the UK and if it means we have to adapt to new ways of working to get your delivery on time – then that, as far as we can, is exactly what we will do. As well as that, our same day and time-critical couriers ensure that you get your delivery when you expect it at super-fast speed.
For an estimate click here. We could be with you within the hour…
Tags: Courier Services, Couriers, couriers near me, Parcel Delivery, Supply Chain
---