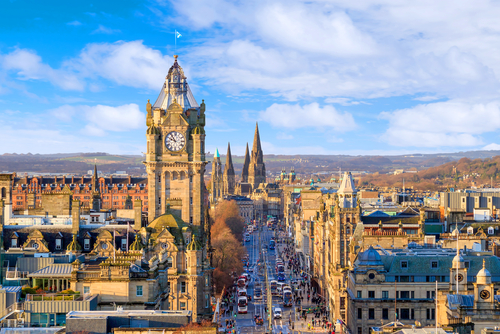 Originally a major part of the Scottish county of Midlothian, Edinburgh is located on the southern shore of the Firth of Forth. Recognised as the capital of Scotland since the 15th century, Edinburgh is the seventh most populous city in the whole of the UK. On top of that, this city has the strongest economy of any city outside of London. So, as we all welcome a new commercial phase as the Covid-19 crisis begins to wane, businesses can get back to trading normally. Hence, there will no doubt be a great demand for couriers in Edinburgh.
New demands for couriers in Edinburgh
May 17th has been set as the date when the major lockdown safety restrictions are relaxed to allow social functioning, living and trading can return. Already, the doors to High Street shops and businesses have been opened across the UK and businesses are enjoying the new demands which come with the new normal. But the epidemic has changed the way customers are buying.
Buying online
Buying from the web has been around of course for many years, but has never really been the main vehicle for trading. When the epidemic was at its peak and physical shops were unavailable, people were forced into getting supplies online. Customers have found a great convenience when buying – and sometimes cheaper products – and businesses have sometimes found a reduction in overheads. The knock-on effect has been online buying is more in demand and promoted more by all organisations. In order to allow that demand to be met there is a greater need for couriers in Edinburgh.
Our services at Same-Day
Here at Same-Day Dispatch Services Ltd we can access couriers right across the UK – including couriers in Edinburgh. And not just for B2C services. We get a great call for organizations looking to fulfil their supply chain needs. Also, with super-fast communications, businesses need to transfer documents, goods or consignments at break-neck speed, so our time-critical couriers in Edinburgh and Same-Day Dispatch Services have become essential and highly popular.
Edinburgh awards
So, as we all look forward to the future with new hope it would seem that the capital of Scotland is the place to be. Edinburgh was named the Best Large City of the Future for Foreign Direct Investment in the Financial Times magazine awards. The main industries in Edinburgh today are financial services, scientific research, higher education and tourism. As far as tourism goes – Edinburgh is the second most visited city in the UK next to London. Attractions include Edinburgh Castle and the Palace of Holyrood House.
The finance sector and couriers in Edinburgh
The finance sector first became central to Edinburgh as early as the 17th century when the Bank of Scotland was first established. This is now strengthened by the insurance and investment sectors and in recent times (circa 2005) the NatWest group founded its headquarters in the city. Also, the city is also home to the TSB bank, Sainsbury's bank and Tesco bank.
Edinburgh is home to the Scottish government and to NHS Scotland and Same-Day Dispatch Services Ltd specialise in offering our services to the medical industry. It is often these businesses that same day delivery is needed. We access couriers in Edinburgh easily. We believe couriers should be trustworthy, personable and organised to get your valuable consignment to their destinations on time. Where possible, we also make sure there is a back-up service in case there are issues with any delivery service we offer.
Our Covid test couriers in Edinburgh
We offer a special covid test courier service to medical professionals and general business as there is still a great need to ensure that working environments are safe when interacting with each other. Indeed, we have a unique reputation when it comes to working with the healthcare sector and the services we offer via couriers in Edinburgh would be just as powerful as anywhere in the UK.
Contact us
Would you be interested in opening an account with Same-Day Dispatch? Please click here. Or conversely, if you need an estimate for a job you have in mind please click here. We won't let you down and we could be on your doorstep within the hour…
Tags: Courier Services, Couriers, couriers near me, Parcel Delivery, Sameday Couriers
---