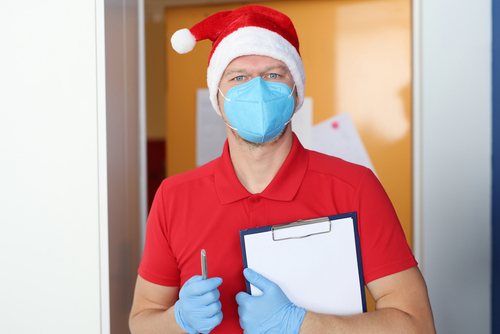 Christmas is usually a time we all look forward to when family and friends get together and share gifts and friendship. But for people all over the world, Christmas 2020 is going to be very different. As Covid-19 grips the world even tighter and lockdowns continue to disrupt lives across the globe, consumers are already learning to prepare and provide for it in a different way. For the first time ever, digital sales are likely to outstrip those sales which take place in a shopping mall. Hence, businesses should act now to ensure they can provide the digital supply chain to satisfy their clients. And at the core of that supply chain has to be powerful courier services.
Statistics Highlight Delivery Service Changes
Lockdown has led to a rise in new digital business. According to a survey by the Royal Mail, during the first lockdown, 315,000 companies were incorporated in the UK. This is almost a 10% increase on the same time in 2019. The survey also shows that the highest rates of new business creation are in the ecommerce sector. Consequently, we are seeing an ecommerce boom. Royal Mail also reports an increase in the need for parcel delivery services. Parcel volumes rose by 34%.
Consumers are being re-wired to buy online
Christmas is not just about presents and gifts of course. Consumers will be wanting to buy decorations, festive food and drink, and anything else that helps them feel that at least one thing in life has remained normal. If buyers cannot get to high street shops, then they are quickly learning that the answer to their problems is online. Indeed, buying online is fast becoming the new normal. For consumers it can be quick and easy; it offers choice and, as long as they deal with respectable companies, it is genuinely trustworthy.
Businesses must ensure solid courier services
Most reputable organisations have structured some form of online access in the 21st century, but it is not always their main source of income. As the virus plunges us into very unpredictable times, we can be sure that online business will continue to grow. Businesses must therefore make sure that the delivery services used can be relied upon.
Buying online is nothing new
Shoppers have been changing their behaviours for some time now according to the Office of National Statistics (ONS). In fact, recent studies show that as early as March 2020 consumers have had to look to the internet to buy essentials as lockdown has closed in around them. But now, from being a mere necessity, buyers are recognizing the benefits of buying online are outweighing traditional shopping.
People are now seduced by the convenience. Online buyers can see a whole choice of goods and receive their choice within days – if not on the same day (via a same-day courier service). Also, with a reputable courier service, a consumer is able to track where their package is and have their precious goods delivered at specific times which is convenient to them. Indeed, it certainly beats trudging through the shops on a cold wet winters' day.
This begs the question even if we were not all under the threat of the virus, have we learnt to find a new and more efficient way of buying our goods? In September 2020 online sales grew by 53%. YouGov have stated that over half the budget that consumers normally spend at Christmas will be spent online. Therefore, parcel delivery and any courier services are likely to be stretched to a maximum. Now is the time to consider how that pressure will affect your services.
New competition in the courier services industry
But before courier services and delivery services begin basking securely in the fact that a new golden age is on the horizon, they should also be aware that this new boost for everything digital has had a secondary effect. Now new businesses offering a courier service are springing up all over the place in answer to the consumer demand.
 So, if you are going to contract in courier services to your logistics and supply chain make sure that it is robust enough to provide the very best. Usually the bigger the company the more able they are to deal with unpredictable events. And let's face it, this year Christmas is going to be, if nothing else, unpredictable…
To learn more about Same-Day Dispatch Services Ltd and to get a quote, please click here – we could be with you within an hour…
Tags: Courier Services, Parcel Delivery, Sameday Couriers, Supply Chain
---