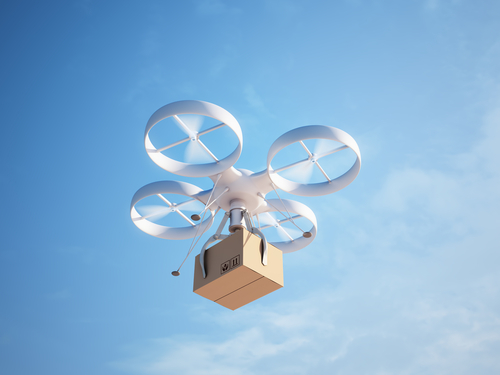 If parcel delivery services go in the same direction as other industries, they are likely to be automated and will be using robots of some type or another for speed, low costs and consistency. The whole industrial revolution has led to machines and robots taking over our places of work – even our homes. So, the use of drones to provide parcel delivery services can only be a short step away.
Drones In Industry
In fact drones are already being used in industry. Today we see how drones can provide fantastic photographic panoramic videos – both for art and commerce. Drones are giving us breath-taking views which can be used in tourism, architecture and publicity. Man would find it impossible to reproduce these images on his own or with current resources. Drones have also been used in military and security work. For obvious reasons they have also been used as an aid to land-mapping and monitoring fuel and power-lines.
America as always is a few steps ahead of us Brits, and big companies like Amazon and Google are already investing in using drones for parcel delivery services. (However, we are beginning to see experiments for delivery using drones across the UK). With the current surge in buying from the internet, Amazon are looking to create a system where drones can pick up delivery destinations via a customer's mobile sat-nav system.
Drones And Parcel Delivery Services – The Obstacles
The two great obstacles at the moment are (1) a drone may meet various impediments on its journey which prevent safe passage (i.e., power-lines) and (2) a drone can only carry up to 5 pounds in weight. Goods currently delivered by drone are therefore likely to be quite restricted. It is going to need a fair bit of experimentation to get it right in order for businesses to provide services that go above and beyond the parcel delivery services offered in todays market.
Amazon have opened a drone development centre in Cambridge UK to help with future studies. There is need to look further into the problems incurred when a drone cannot see outside of its own range and when a drone is in the path of other aircraft.
Drones And Parcel Delivery Services – The Positives
Also known in the industry as Unmanned Ariel Vehicles (UAV's), drones do not need a pilot. The great thing about drones of course is they are great for the environment – reduced emissions and less congestion on our streets. They also have a reduced cost of operation through remote control and are easily and cheaply maintained.
As well as avoiding traffic jams, they do not have to put up the daily problems that today's parcel delivery services face, such as detours, road works, low bridges etc. Speed is attained not only by the drone itself (they can fly up to 100 mph), but also by the fact they're able to circumvent earthly obstacles such as hills, jungles, mountains, road directional systems and valleys. It is not only the businessman who will be winning – it is highly likely that the costs saved within parcel delivery services will be passed onto the consumer.
Parcel Delivery Services In The Here And Now
Drones, when they eventually do come, will reduce the cost of delivery services. They will offer convenience and delivery times in under 1 hour. Until then, we are still king as far as getting your deliveries out in super-fast time. Same day delivery really is a reality as well as a quality service for business and residential clients. You can call us on 0800 999 1010 or, if you would like a quote on your project, why not visit our webpage here. We could be with you within the hour…
Tags: Delivering Parcels, Parcel Couriers, Parcel Delivery, Parcel Delivery Services