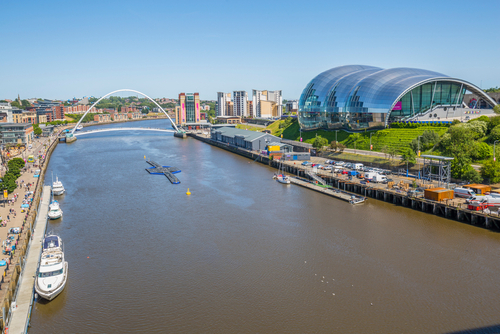 The growth in the demand for courier services is not central to Newcastle or the UK alone. It is a phenomenon that was triggered by the Covid-19 epidemic. So, as consumers have been unable to buy their goods from the High Street, they have had to turn to online commerce to acquire their essentials. Even now, as the peak of the epidemic truly begins to recede in the UK, shoppers still wish to use online services to a greater degree. As the need for trustworthy couriers remains high, Newcastle couriers are of course no exception.
Client And Supply Chain Delivery Services
Trustworthy Newcastle couriers are needed not just for the direct delivery of goods bought online but also as an important factor in business supply chain and logistics. Usually, UK businesses will rely on couriers to deliver ingredients for manufacture and documents for contracts, etc just to keep the production line running smoothly. As technology has advanced, so we expect even more from our delivery experts. We can now look forward to situations where consumers and business managers can track their projects and also ask for delivery or dispatch on the same day.
Newcastle Couriers In Demand For City Industries
Newcastle is a hive of industry and commerce. Indeed, the eighth-most populous urban area in the whole of the UK, the City of Newcastle is found on the River Tyne in the North-East of England. The economy today is diverse and includes such industries as science, finance, education, retail, tourism and nightlife.
As far as retail is concerned, Newcastle is seeing a comforting recovery after the dark months of Covid-19. Consequently, you can find all the major retailers such as Next, Hollister, Guess and even Apple. Communications-wise, Newcastle couriers will be glad of the fact that air (Newcastle International Airport), rail (Newcastle Central Station), metro (Tyne and Wear metro) and roads (A1 to Scotland; A19 south; and the A1058 coast road) offer great options for travel and delivery. Also, travel by water is also effective thanks to the Newcastle International Ferry Terminal based in North Shields.
Diverse Industries In Newcastle
As well as law, medical science and offshore and marine businesses, Newcastle couriers compliment the ever-growing tech and digital sector. Outside of London, this northern city is one of the fastest growing tech clusters in the UK. Home to Sage PLC, Ubisoft's UK Game Studio and the BBC Tech Hub, strengths lie in video games, e-commerce, software development, data analytics and immersive technologies.
How To Find Trustworthy Newcastle Couriers
So how do you find trustworthy Newcastle couriers? How can you be sure that deliveries will be fast and safe, couriers will be personable and offer exceptional communications? How can you be sure that fragile or vulnerable consignments will be given the treatment they deserve? Is the company flexible enough to provide cost-effective delivery options such as same day delivery? It can be a bit of a minefield as the "try them and see" option could well be detrimental to your business-customer relations and your business brand itself. Well, Same-Day Dispatch Services may offer the perfect answer.
Same-Day Dispatch For Newcastle Couriers
Here at Same-Day Dispatch we only work with the very best couriers across the UK. Indeed, we can take the stress, and searching out of finding a trustworthy, professional, and personable courier. Due to the high demand, we have a great network of Newcastle couriers. With access to over 200 depots, and over 2,500 delivery vehicles we can deliver your precious consignment anywhere across the world. In the UK and Europe, we can get that delivered on the Same Day. All goods are handled with care and our couriers adhere to health and safety (re the epidemic) and are friendly and personable.
Where Do I Go From Here?
You can get an estimate online by clicking here. Or if you would like to chat to one of our support workers call 0800 999 1010. We also offer the opportunity of opening an account with us to deal with your on-going needs. We look forward to working with you in the future!
Tags: Courier, Courier Services, couriers near me, Parcel Delivery Services