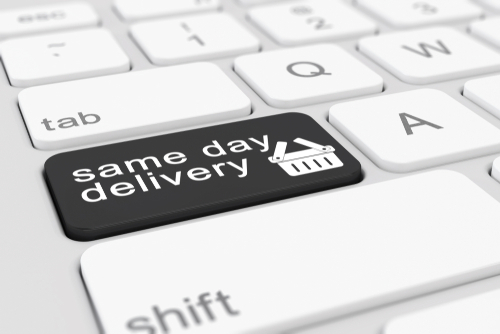 With the onset of the covid-19 epidemic, we have all been left isolated from traditional social functioning to some degree. This has meant individuals and businesses have had to adapt to our new environment to cope. In adapting how we live and work, we have not only found a new normal but businesses have also created new services which reflect the new world we live in. Delivery services have had to step up to the plate in order to meet the new demand for online services. They have also needed to sidestep the obstacles created by the numerous virus prevention measures and by lockdown. So, are time-critical services and same day couriers still viable?
Our same day couriers will get your goods delivered
Here at Same-Day Dispatch Services Ltd we continue to offer excellent delivery services to our clients. Same day couriers and time-critical services are perhaps even more in demand than they were before Covid-19 took the world of trade and turned it upside down. There will always be businesses who need that urgent dispatch and delivery and this is where we come into our own. With access to the very best reliable same day couriers across the UK we can get your goods to where you need them to be – bang on time. Once you let us know what your project is, and you have an estimate you feel is acceptable, we can be with you within the hour.
Can we guarantee delivery with same day couriers?
Certainly, in the UK we can more or less guarantee same-day delivery. How can we do that? With traffic on British roads so unpredictable and with travel restrictions imposed in some areas because of the virus, it may well seem a little hit and miss. But first of all, we do not make promises we cannot keep. We have the experience to evaluate just what can and cannot be done in these somewhat strange times. But more than that, we make sure that all of our same day delivery tasks have "back-ups". This means that as well as finding the most appropriate courier for the job in hand we will also look at finding a same day courier who can offer support if there are issues with the service.
Same day couriers for all industries
We have 2500 delivery vehicles at our disposal throughout the UK – whatever you need – van or lorry we will get your consignment there. Indeed, we work with all industries. Our clients come from all walks of life. We tend to specialise in the medical industries because this is often where super-fast delivery is needed on an on-going basis. As an example, some of the industries we offer services to are medical device companies, surgical suppliers, drug manufacturers and the pharmaceutical industry. We have many other clients in the following industries:
Industries we work with
Data recovery companies
Solicitors
Construction/architects-design teams
Government agencies
Advertising agencies
Film and production companies
Vets
Food manufacturers
Renewable energy manufacturers
And this is just a small idea of what we have! Whatever industry your business is in, whatever the size of your consignment, wherever you are in the UK, we have the perfect same day courier for you.
How to get started
You can either call us on 0800 999 1010 or you can get more information and an estimate online. There is more info about our same day services here. Also, if you have a need for on-going delivery services then you may wish to start an account with us – just click here. Feel you need an estimate: just click here. We look forward to hearing from you!
Tags: Reliable Deliveries. Reliable Parcel Delivery, Same Day Courier, Same Day Couriers Service, Sameday Couriers