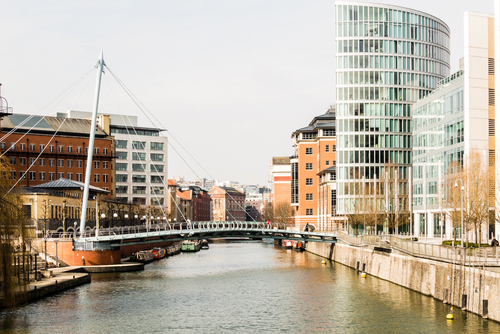 Bristol holds a special place amongst the top commercial cities in the UK. But just like any other city across Britain, it needs excellent external services to oil logistical systems. Businesses have always relied on great delivery services throughout history – and now in the 21st century – with the advent of online buying and selling and the black cloud of Covid-19 still hanging over us – great delivery systems are even more important. Once you have found the right courier service, then you don't let them go, because you hope they will get to know your business needs and streamline their service to your demands every time they work with you. But which industries need quality Bristol couriers?
Which industries need quality Bristol couriers?
The answer to that is any organisation or business thriving in Bristol. Here at Same-Day-Dispatch we have offered our service to numerous different industries across the UK. We can adapt to unique consignment needs; we offer time-critical services and can back up our Bristol couriers to make sure your delivery gets to its destination safely and swiftly – at the right time. Some businesses may be looking for a one off-urgent delivery – others may need on-going same day courier services. So what industries are prevalent in Bristol now?
Trade was once focussed on the port
With an urban area population of 670,000, Bristol is the 11th largest city in the UK. Located deep in the south west of England, it lies between Gloucestershire to the north and Somerset to the South. It's only a short journey to the beautiful country of Wales over the Seven Estuary.
Bristol of course is a port and it offered a gateway for international merchants to trade as early as the sixteenth century. Today, Bristol has kept up with the advances in scientific knowledge and digital technology. Business is therefore no longer focused on imports and exports through its harbour. Now the city centre docks – once a hub of merchant activity – have been redeveloped as centres for heritage and culture. Industry has changed enormously and its modern economy is built on creative media, electronics and aerospace industries
Modern industries in Bristol
Bristol remains one of the UK's most popular tourist destinations – hence the tourist industry is very much alive and kicking. Since the Ministry of Defence moved its headquarters to Abbey Wood in 1995, it has also become a major player in the defence of the country.
Other thriving industries needing Bristol couriers are linked with the changing times: information technology and financial services. The latter employs 50,000 in the city while 50 micro-electronics companies employ 5,000 people.
Filton is a well-known name in Bristol. It is the name of the local aerospace activities. Throughout the 20th century it produced both world war one and world war two planes. In the late 1960's it played a part in the first flight of the Concorde (it made its maiden flight from here in 1969).
Communications for Bristol couriers
Bristol couriers – and indeed any couriers who have Bristol as part of their delivery project will be pleased to know that communications are especially good in and out of this majestic city. Bristol is connected to London and any other major cities by road and rail. Communications with the outside world can be made easily via sea or by air (Bristol airport). Also, Bristol is served by a robust and regular railway service.
Where do I start?
If you are looking for Bristol couriers, we can cut down a lot of the research for you. Here at Same-Day Dispatch Services Ltd we have access to the very best couriers across the UK. We can access the most appropriate service for you now. You can contact us by calling us on 0800 999 1010 or you can get a quote by clicking here
We could be with you within the hour…
Tags: Couriers, Reliable Couriers