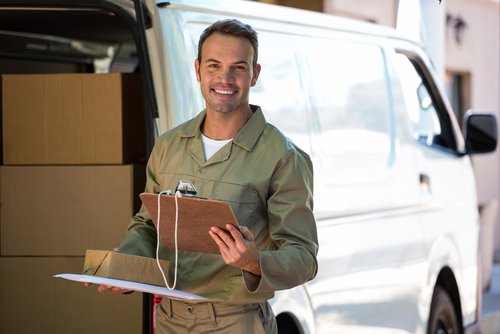 There are many courier services out there. In many cases managers and residential consumers alike may make the mistake of using the first one which comes to their notice. After all, it's just delivery isn't it? The important factor is the consignment isn't it? But not every courier service offers the same benefits, has the same track record or can ensure your goods reach their destination speedily and safely. So, what should you look out for? What should every courier service provide? And how do you track them down?
Tracking down the perfect courier service
There is nothing more useful than recommendations. The best recommendations will come perhaps from a fellow colleague or friend – someone you trust. They will have had first-hand knowledge of the brand and can vouch for the quality of service you will receive for the fee. The next best thing to that is testimonials on websites. You can see our testimonials here
In the same way, larger companies are more likely to have created a positive reputation. Smaller companies, sole traders and start-ups are possibly not likely to be able to offer the full scope of services – or quality. Here at Same-Day Dispatch Services Ltd we have been in business for over 17 years, we have a great reputation as can be seen by the feedback from our customers.
Finding a local courier service on the internet
The internet offers a great choice of different courier services. Indeed, it may be that you are looking for a local courier service. These can be easy to find. Just enter your locality into the search box of your favourite search engine along with the service you require:
For instance:
Courier services in Glasgow
London delivery services
Southampton couriers
Same day courier services near me
Note: Same-Day have access to the top quality couriers and logistics agents across the UK. Just ask.
Which factors are most important to you?
Here's a few tips to help you get what you are looking for:
This all sounds very nice, but how will the company ensure your precious cargo is delivered? Always make sure they have the systems in place to uphold their promises. Here at Same-Day we have a back-up system in place. In other words, if one of our courier services breakdown for instance, we will make sure another takes its place as soon as possible.
Make sure you understand how you are being priced. Some courier services may hide fees in small print and terms and conditions. Always know what that final cost will be before you hit go. And remember if the price seems too good to be true…then it probably is. You do not want a company cutting corners when the safety of your valuable consignment is at stake.
Are you able to monitor your courier service and the delivery at any point? This is important in itself, but it is especially important when you need delivery at a specific time.
As with all industries, this is important. It allows you to check on the service you are paying for, raise concerns, changes or complaints and get peace of mind. Here at Same-Day our customer service sector is the core of our business – we know it oils the wheels of the service we provide and is the face of our brand.
As well as being able to adapt to your specific needs, a courier service needs to be able to offer accessory options. For instance, here at Same-Day we offer International delivery, time critical delivery, same-day delivery and specialist deliveries for the medical industry.
In times of emergency or where speed is of the essence in your logistical systems, we can deliver your goods on the same day in the UK. To find out more and for an estimate click here. We could be with you within the hour…
Tags: Courier Services, Couriers, Delivering Parcels, Parcel Delivery, Sameday Couriers