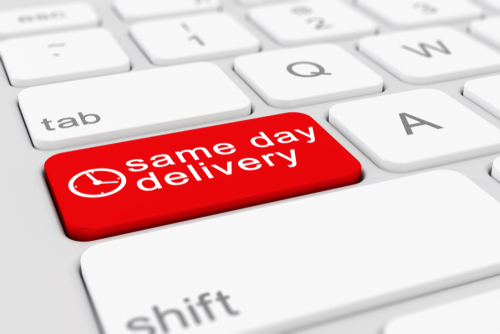 Delivery services come and go. Many start-up couriers make a buck and then sadly disappear. The fact is unless there is service innovation, continuity and a solid on-going relationship built up with the client, flexibility and guaranteed service goals, any business in the delivery service will just become one of the many that tried and failed. Hence, any organisation needs to offer a service above what their competitors provide. Their brand must shout their unique selling point (USP). Here at Same-Day Dispatch Services Ltd we believe we have become so successful for exactly those reasons. Let's take a closer look at same day courier services.
When the best laid plans fall apart
It is only natural that sometimes, however well a business is organised, unforeseen circumstances cause an issue with communications or deliveries. Therefore, a cost-effective service is needed to move consignments at break-neck speed. That is – fast without breaking anything. We call this time-critical delivery. We will get your precious cargo – a single document or a huge load – to where it needs to be at a specific time within the same day. Putting your business back on track.
For the client in these kinds of circumstances, only the fastest delivery service will suffice. The fact that these situations have arisen for our clients does not reflect bad organisation on their part. Indeed, there will always be a time when life gets in the way, and even the best laid plans go to pot. What is needed is a trustworthy delivery service which will go that extra mile. Same day courier services are often the only option.
Same day courier services for on-going urgent deliveries
Many of the industries we work with need same day courier services speedily on a regular basis. Not just those unforeseen events. Even in the 21st century where communications take place in micro-seconds online, there is still an enormous need for physical deliveries to happen as soon as possible. For instance, a business or industry may need equipment transported across the city in the shortest possible time.
Here at Same-Day Dispatch Services Ltd we offer a same day courier service for a broad spectrum of diverse industries. They include: medical manufacturers, Data recovery companies, solicitors, councils and government agencies, vets and renewable energy manufacturers.
How to get things moving
Basically, we offer same day courier services to all UK industries. By contacting 0800 999 1010 or visiting our quote page, we can get your delivery organised instantly. Thanks to our huge network of couriers throughout the UK we can be with you within the hour. By creating an account with us, we attempt to be available for any future unforeseen incident which will call for same day courier services. Or you can sign up for a regular account to satisfy your logistical needs. We belong to a network of over 230 depots, 2500 delivery vehicles (including vans and lorries). We also have access to air or sea delivery if your consignment is going further afield. And no consignment is too big. Trust us – we like the challenge!
Protected same day courier services
Our central principle with our same day courier services is not only to get your goods to the right place at the right time, but also to get them there in one piece. That is why all our couriers are professionally trained and where needs be a second courier will be on hand to ensure safe handling. From the very big to the very small we can also deliver to multiple drops across the UK.
As we said at the beginning of our article, as well as those businesses who need our same day dispatch services on a regular basis, there are those clients we are always there for when life just gets in the way and there is a need for an urgent delivery. We are also aware that we are not above the curved balls that life can throw at us. So, to protect you, we ensure that in all cases we can provide a back up to each delivery. Making sure we keep to our promise.
Tags: Couriers, Same Day Courier, Same Day Couriers Service, Sameday Couriers