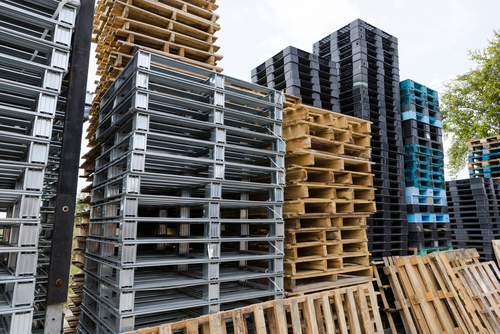 The type of pallet you decide to use for transportation could make all the difference between a safe and fast delivery and a lost or damaged consignment. What many business owners overlook is there is more than just one type of pallet. Each has its own unique benefits and so will be useful for specific business consignments when used by a courier service. This fundamental factor could make or break the smooth flow of your supply chain. So, what do you need to look out for in deciding which pallet you will use for your goods?
Key pointers to make your courier service delivery smooth
The first factor to consider is the type of product that will be shipped by the courier service. Indeed, pallets come in three different materials: wood; plastic and metal. For instance, it is considered that plastic pallets are best suited to food and beverage items.
Know the size of your packages and the volume you will need. Luckily, you can get different sized pallets to suit your shipment. Also, as specific pallet materials are priced differently, you need to budget to be cost-effective.
How often will you be making a shipment? If it is a one-off, then you could probably make do with re-conditioned pallets to meet the needs of your courier service. However, if deliveries are going to be more often you need to ensure the pallets are up for the job.
Storage is also an important consideration. Therefore don't forget that wooden or paper pallets may be susceptible to moisture.
Some options for your delivery service
So, what are your choices when you are out hunting for the right pallet for your business? The following are probably the most popular.
Roto-moulded pallets
These pallets are named after the way in which they are created as they are made using a rotational moulding method. Available in standard sizes they can be enhanced to increase the load-bearing capacity. The base material being plastic, these pallets are mainly used in industries where there is a need for hygiene.
Injection moulded pallets
As the name may suggest these pallets are plastic. Available in standard sizes they are used to lift goods during transportation (i.e. using forklifts, loaders or jacks). The great thing about plastic pallets is they are good for the environment – being recyclable. They are also washable, corrosion-free and very durable – meaning you are likely to get long-term use for your investment.
Block/deck board pallets
These pallets have a top and a bottom separated by twelve columns. Also, they are considered to provide high handling efficiency in logistics as they can be lifted from all four directions. They can be made from plastic, wood or metal.
Stringer pallets
More strength is provided in these pallets via two boards between the top and bottom at either end of the structure. As much as this is great reinforcement for heavier loads it also means lifting options are restricted. A forklift truck would be unable to pick up the pallet from the closed end. However, if you need them to complement your courier service delivery, you can buy them with little notches on the board sides to allow lifting vehicles to find leverage.
Solid deck pallets
Again, these pallets are made from plastic, wood or metal. Fortunately, they are easily recognisable as the top deck is a solid sheet of material. Easy to clean and transport, their greatest benefit is for moving smaller consignments.
In conclusion: pallets for your courier service
If consignment deliveries are infrequent you could get away with reconditioned pallets. But quality pallets are a good investment long-term. Plastic pallets are particularly good for ease of cleaning, hygiene and therefore durability. However, choose your pallet in line with the characteristics and volume of your product. So check out the choices first!
At Same-Day Dispatch our aim is to get your business consignment to its destination in record speed and undamaged. For a quote please click here
Tags: Courier, Courier Services, International Couriers, International Delivery, Parcel Delivery Services