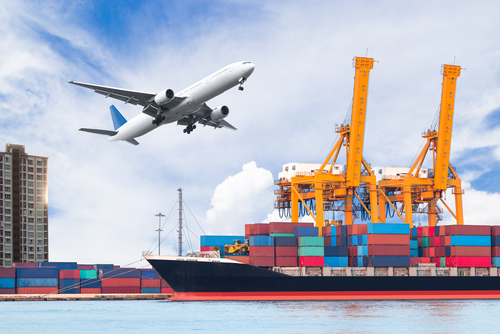 There's no doubt that as private consumers we usually pay little attention to whether our goods are going to be transported by sea or by air. When our goods are coming half-way around the world we may think twice about delivery by sea as traditionally, sea freight is going to take much longer. But why is this? And are there other factors we should be taking into consideration as well? From a businessman's point of view, it is definitely worth considering the options of sea vs air when securing courier services for your supply chain. So, in this article we are going to look at the pro's and cons of each.
Both have positives for courier services
It would seem that both methods of transportation have their positives. While air freight can be much faster, sea freight is on the whole less costly. So, if you have restricted budgets you may be attracted to the idea of adapting your supply chain and saving a little on outlay. However, there are other unfavourable aspects of sea freight which need to be taken into account.
Both types of transportation can be affected by processing issues (harbour or airport strikes) and customs issues (correct documentation and vehicle congestion etc). In these cases, they can be as good or as bad as each other.
Rescheduling
Both modes of transportation can be affected by bad weather – but this is when transport by sea may become a little more unpredictable. Cargo flights of course maybe delayed, but they are likely to be rescheduled to a later flight very quickly – probably moved on to the next available flight. However, if courier services are using sea freight, delays are more likely to take days to get the shipment rescheduled.
Sustainability and international delivery
There are environmental issues with sea freight and air freight. For instance, air freight will emit a great deal more carbon dioxide for obvious reasons. Statistics show that 1,000 kilograms of air freight will on average emit 500 grams of carbon dioxide for every kilometre a modern cargo airplane flies. In comparison, emission is reduced to 15 grams for every kilometre the cargo ship sails.
Also, even though sea freight has always been a contributor to harmful emission, there have been big changes made by the United Nations (UN) recently. A major problem with sea freight is it produces too much sulphur. To confront this issue, the UN created regulations (enforced on 1st January 2020) which reduced the allowed sulphur limit from 3.5% to 0.5%. It is hoped that this new legal maximum will reduce sulphur pollution – which has proved harmful to human health in port towns and cities – by 80%.
International courier services and length of travel
As we have said air freight will always be quicker than sea freight. Therefore, many goods with a short shelf-life may end up damaged if delivered using lengthy ship services. In reality, lengthy transportation in courier services could also seriously upset goods getting to market and hence affect overall profit margins if not handled correctly. But don't worry, all reputable courier services will advise on the most effective mode of transport for your consignment.
Mode of transportation should be unique to business needs
The very best courier services will be aware of which mode of transport will be the most effective for their business customers. Here at Same-Day Dispatch, we know from many years of experience that each industry will have its own unique needs. For instance, we are aware that temperature-sensitive pharmaceuticals are usually safer by air freight. This of course is a very topical theme at the moment, with the need to distribute the Covid-19 vaccine all over the world at very low temperatures. Indeed, we are already one of many trusted courier services servicing businesses connected with Covid-19 testing, so we may well also offer services for this.
Tags: Courier Services, International Couriers, International Delivery, International Freight Forwarding, International Shipping