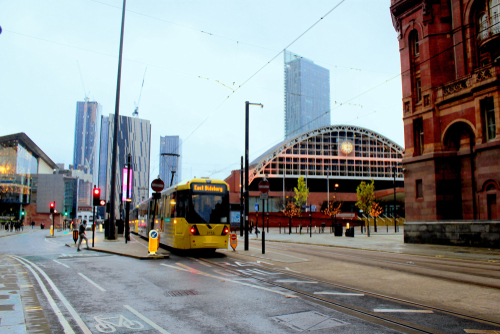 With a population of over half a million, the city of Manchester comes very close in industrial importance to the capital of the UK itself. Therefore, if you are a business looking to get your supply chain fulfilled, or a residential customer hoping your precious goods will reach you undamaged you will need superior courier services. You will need to ensure that any courier services you use can be trusted to get your stuff where it is meant to be on time and in one piece.
Manchester's industry needs trustworthy courier services
Located just below the Pennines and above the Cheshire plain, the city of Manchester is known for many areas of commerce and culture. Its architecture, lifestyle, music, scientific and engineering output and transport connections are second to none. From trams to trains, buses, airplanes and canals, Manchester has many modes of transport and communication systems which has aided industry growth. Those transport connections are essential when offering smooth and speedy deliveries in and out of the city. But you don't have to go outside of the city for high street commerce. The Manchester Arndale centre is the UK's largest city shopping centre.
At Same-Day Dispatch Services Ltd we have access to over 2,500 delivery vehicles to complement our courier services. From small vans to articulated HGV's we will get your consignment anywhere in the Manchester inner city or indeed anywhere in the UK. If you need to export or import we have access to sea freight and air travel.
A thriving industry
Like all modern 21st century cities, Manchester is host to a broad cross-section of industries. From financial services and media, to retail, technology and tourism – and that's just the beginning. But clearly any couriers in Manchester worth their salt needs to be able to adapt to the unique needs of individual businesses. So, it is interesting to know that more than 85% of the Manchester workforce is involved in sales, finance, and service companies.
What do you need from a courier service?
Here at Same-Day Dispatch Services Ltd we research locations and prospective industries as an important stage in performing the essential logistical tasks. Only this way can we provide couriers in Manchester which are unique enough and robust enough to guarantee Manchester businesses and industry a cost-effective return on their investment in us. If we know what your problems are likely to be – we are more likely to be able to adapt to your business needs.
All our services can be adapted to the specific needs of each individual company to an extent. However, overall we provide same-day services, International services (including European dedicated road delivery), affordable freight services and critical shipments which need special handling.
Courier services for Manchester business
We have a wide experience (please see our feedback page) and work with a diverse set of businesses. This includes automotive industries, construction, renewable energy manufacturers, publishing companies, computer manufacturers, airline handlers and food manufacturers to name but a few. This is by no way an exhaustive list – basically if you are interested in our services give us a call on 0800 999 1010 or get a quote now by clicking here.
At Same-Day Dispatch Services Ltd we take special care with those deliveries which need to be delivered speedily and at a specific time. We have nurtured excellent working relationships with clients who need critical shipments around Manchester, the UK and abroad. Some of the businesses we work with have their roots in medical welfare, so we know there is no room for mistakes or timing out. We are proud that amidst the Covid-19 pandemic we are able to supply a courier service which aids the flow of government goals and helps keep the general public safe by going a fair way in monitoring the effect of the virus. To see more of our Covid-test Kit courier service click here.
But Same-Day Dispatch is available for many health matters other than Covid and can can offer couriers in Manchester businesses such as medical manufacturers (i.e. surgical supplies); drug manufacturers; pharmaceuticals and medical device companies.
If you are a business in Manchester looking for delivery services locally or abroad get in touch. We could be with you within the hour…
Tags: Courier, Courier Services, Couriers, manchester couriers, Parcel Delivery