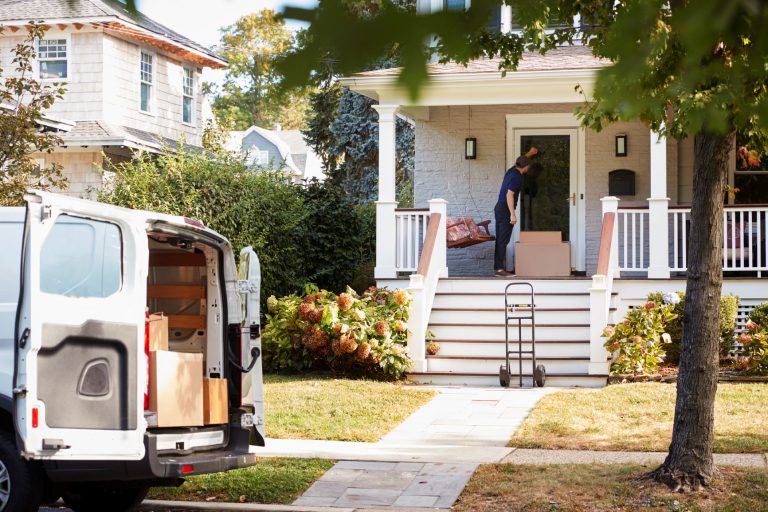 The 'last mile' is a term used in supply chain management that accounts for the movement of goods from a warehouse, depot or transportation hub to the final destination – the customer.
This last leg of the delivery process is the most inefficient and expensive part of the process. In large cities, persistent obstacles such as diversions, construction work, traffic, and parking restrictions make the last mile incredibly time-consuming. With London expanding its ultra-low emission zone, last-mile delivery has become even more complicated for logistics companies and these environmental challenges will continue to grow.
It's no better in rural areas either. Drivers are often delivering single consignments to low-density areas, only to find the recipient isn't home. This makes the delivery journey a wasted effort and unnecessarily expensive on fuel.
Combine all this with the fact that people are currently expecting their orders the same-day or next-day, the problem is amplified.
But there is a solution to this issue – implementing processes and using tools to optimise last mile delivery. Streamlining this process as much as possible can reduce cost, save time, and ultimately improve customer satisfaction. This post covers five ways to improve last mile delivery efficiency to help you stay ahead of the competition.
Integrate Planning Tools
The number of parcels being sent each day has never been higher. With companies having to consider route planning and scheduling for hundreds of consignments at a time, this planning process is simply too complex to manage your operations using a spreadsheet or on paper.
Investing in route planning and fleet management tools will help you map out optimal routes while also generating real-time data on delivery status and vehicle location.
This updated software will allow you to more effectively monitor running costs, driver overtime, number of stops completed, the efficiency of your routes, consignment priorities, and smaller delivery windows.
This technology should also integrate effective mapping tools to improve address accuracy. One of the main factors causing delayed deliveries is an inability of drivers to locate addresses efficiently.
These tools can provide the information you need to enhance the last mile delivery process, while simultaneously optimizing operations and improving route mapping and scheduling.
If you don't have your own delivery fleet or the idea of investing in a whole new system seems overwhelming, an alternative is to team up with a courier service who already utilises this technology. Your courier team will be able to use their systems to improve your last mile delivery process for you, allowing you to focus on other important facets of your business.
Shrink Delivery Windows
When you have optimised route planning and scheduling, you can give customers much more accurate ETAs. Customers now expect extremely accurate delivery times, no longer are they willing to wait in all day for a delivery when many businesses offer a strict 1-hour delivery window.
In addition to improving customer satisfaction, this optimised delivery time allows you to increase the number of deliveries you make per day, reducing the cost of delivery and ultimately improving your bottom line.  
Factors which challenge shrinking your delivery windows include delivery restrictions, difficult loading and drop-off zones, customer-specific delays and perishability of products. However, all of these factors can be alleviated with proper route planning tools. These tools will allow you to take all of these factors into consideration and give each customer an accurate ETA, regardless of unexpected delays. 
Again, a professional courier service can take care of this for you. They will have the tools available to optimise their routes and give your customers accurate delivery slots.
Mobile POS Devices
The last step of last mile delivery is an area that can be optimised for improved performance, and mobile computing technology can have a huge impact. Finding paper delivery forms and working out hard copy invoices in the van can take up a lot of the driver's time, having a knock-on effect on each additional drop. This makes the whole delivery process for companies longer and customer wait-time increases.
By using mobile hand-held devices, drivers can quickly and professionally access the documents they need, get the customer's signature electronically, and quickly, in real-time update the back-end supply chain managers of drops.
By freeing up the time drivers spend on hard copy documents, they have more valuable time to perform their drop, give a better level of customer service, and complete more deliveries on a route. For companies that need to maintain hours of service or fuel tax logs, these can also be tracked automatically, which eliminates another time-consuming aspect of deliveries. This all pulls together to increase drops, improve your bottom line, and heighten customer satisfaction.
Maximise First-Time Delivery
Finding a way to maximise first-time delivery each time a package is sent can significantly reduce the risk of lost or damaged parcels. Research suggests that items are more likely to be damaged or stolen if they are left with a neighbour or in a 'safe' place. Communicating well with the customer and confirming a suitable time for delivery can eliminate a lot of this risk. Ensuring someone is home when a drop is made can be crucial as well. This circles back to giving customers a small, specific delivery window. First-time delivery is significantly increased if customers are given a smaller ETA.
Invest in an Expert Courier Team
Having a professional courier handling your last mile deliveries will help improve your entire delivery process. Here at Same Day Dispatch Services, that's exactly what we do. We are a professional logistics team who often perform last mile deliveries. Using advanced tracking and delivery tools, we do the legwork to make sure each package gets to the customer promptly and unharmed. Each of our vehicles is tracked and we always send collection and delivery notifications so you are constantly kept up to date of the progress of your delivery.
We pride ourselves on our customer service and someone is always available to answer your queries. If you'd like to find out how Same Day Dispatch Services can help optimise your last mile delivery service, please contact us today. Tel: 0800 999 1010.
Tags: Courier, Courier Services, Parcel Delivery, Reliable Couriers, Sameday Couriers