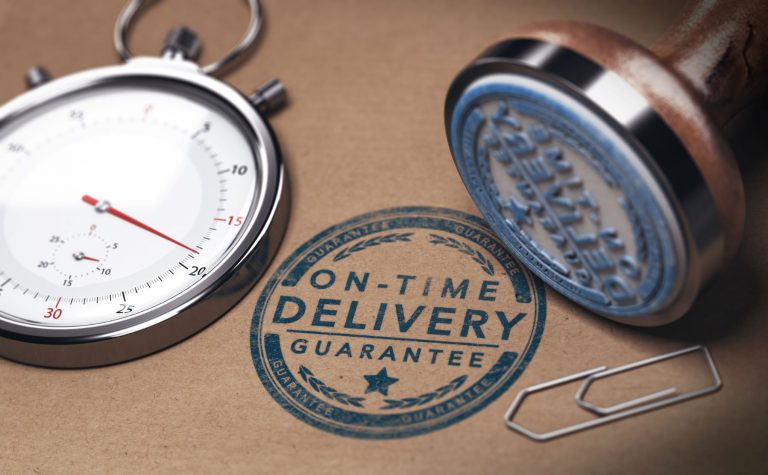 It's safe to say the world is gaining speed. There are now countless apps that will let you get whatever you need at the click of a button.
Need a lift somewhere? Hire an Uber. Craving take-away? Deliveroo will be at your door in a matter of hours. Nothing on TV? Netflix, Hulu or HBO Go have got you covered with enough instantaneous entertainment to last several lifetimes.
What do these things have in common? They're instant. Click, sit back, and wait for your service. We are increasingly desiring 'on demand' services.
This is where same-day delivery bursts onto the scene.
According to studies, 80% of customers want to receive their goods the day they purchase them. What's more, 61% want them within a one-to-three-hour window of purchasing.
But the question remains…
Would a same-day delivery service be right for your business? Below are five factors to think about when considering this and, more importantly, how to implement the service successfully.
Is There Demand?
Does it make sense for you to offer same-day delivery? This is dependant on your product and customer base.
In the food and catering industry, people expect fresh produce and need it quickly. In this case, same-day delivery is a must.  
Other industries such as healthcare, automotive and aviation are also prime candidates for speedy delivery. The demand for emergency support means the option to offer a time-critical delivery is essential.
If, on the other hand, your business involves building bespoke components which are made-to-order, it's unlikely you'll need to offer same-day delivery. Your customer base wouldn't expect it from you, so there might not be a need to follow this trend.
Your expert knowledge of your customer base will help you decide if there's a need to offer a rapid delivery service. Conducting surveys to get the insights of your customers and staff members can be invaluable here. Find out if this is something they would actually benefit from or is logistically possible.
Where Are You Located?
If you find there's a demand for same-day delivery, the next important step is to decide how you're going to implement your delivery program. Do this by assessing your clientele base, where they live, work or receive their deliveries.
Use this vital demographic information and implement fulfilment centres. You'll need to keep your products close to where your customers are so before you get started, figure out if this is a viable option for your business. This way you can maximise your output and make a success of it.
Trialling same-day delivery in areas close to fulfilment centres is useful to get to grips with the logistics without overburdening a fledgling program.
If this already seems overwhelming, talking to a professional courier service will do wonders for you. They will be able to guide you and give expert advice on how you can fully utilise their service without it costing a fortune or taking up all of your resources.
If you want to get in touch to discuss the best options for your business, contact us now for a free quote.
Does Same-Day Delivery Align with Your Fulfilment Process?
Understanding your existing fulfilment program will help you understand what needs to change and what needs strengthening to implement a same-day delivery service.
Talk to your staff and those directly involved in your current processes. Often, it's the people working in your fulfilment department who can give you the deepest insights into what works and what won't be viable.
It's important to think about the entire process including receiving orders, picking and packing them, delivery, and any follow-up processes you have.
In order to implement a successful rapid delivery service, these are the considerations you will need to consider. Working out how you will logistically manage a more dynamic delivery system where there are several pickups and drop-offs in a day will be key.
Do You Need to Retrain Your Staff?
Offering same-day delivery may mean an overhaul of your current policies and processes. So it's important to think about additional staff training.
By devoting time to training your employees you can ensure a smooth transition and a quality service. If you plan on using an external courier service, outlining your expectations can be alternative way of managing them.
Will You Outsource Your Delivery?
Will you outsource your parcel delivery to a time-critical courier service or take on delivery in-house?
Handling this new service yourself does give you more control over the whole process. It allows you to monitor and deliver better customer service all-round.
However, there is a major consideration here. Taking on same-day delivery in-house is a huge undertaking. You need to be clear on whether your current business model and resources can deal with the additional workload.
This might not be plausible or possible for your company and may put too much strain on staff or finances, so this needs to be well thought out.
Partnering with a dedicated courier service may be a more viable option for your business. By partnering with a company already established in same-day delivery, you reduce the risk for your company.
Here at Same Day Dispatch Services, we specialise in same-day delivery and each parcel comes with a same-day guarantee. All deliveries are fully insured and our vehicles are tracked, keeping your deliveries safe and secure. We have all the resources available for fragile, high-value and hazardous deliveries and no delivery is too large or small.
Imagine being able to heighten your profile by offering same-day delivery without the headache of working out the logistics yourself.
Final Thoughts
Same-day delivery is fast becoming the norm for many industries. Businesses who want to compete in this ever-growing market need to give it some serious thought. If your customers are asking for it (and they probably are), it's better to offer the service sooner rather than later.
If you think same-day delivery is the right move for your business, get in touch with Same Day Dispatch Services today to discuss your options and get a free quote. Tel: 0800 999 1010.
Tags: Same Day Courier, Same Day Couriers Service, Sameday Couriers